Our Global Approach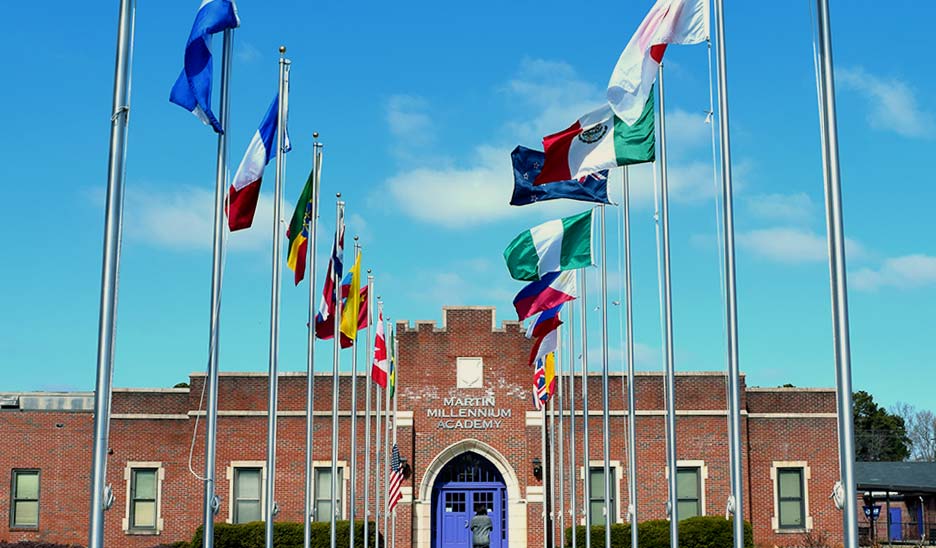 Our Mission
Martin Millennium Academy (MMA) is a Global Gateway school serving students in grades K-8 in Edgecombe County, North Carolina. Through a partnership with Participate International Education, MMA offers a full Spanish Immersion program in elementary school, and a focus on different regions of the world at each grade level.
Vision:
We will be innovative leaders working for positive change in our global community.
Mission:
We are Trailblazers! Together, we celebrate our strengths and our diversity, seize opportunities to serve others and strive for excellence in all that we do.
Where there is no road, we will make one!
Foreign Language Instruction
The opportunity to learn another language will make the students at MMA even stronger. Studies have shown that students who study an additional language are better readers, are more creative, are better problem-solvers, have fewer disciplinary issues and have more confidence in their public speaking abilities. We offer the following language learning opportunities:
Splash Spanish Immersion: Kindergarten students will begin their study of Spanish in a full immersion Spanish classroom. Spanish is not taught as a subject; it is the language in which instruction is delivered. Immersion scholars master the curriculum objectives in all subject areas. Scholars will continue their language study each year, with the goal of becoming fully fluent by the end of 5th grade.
Mandarin Chinese: Scholars will continue their study of the Mandarin Chinese language and culture throughout their tenure at MMA. Mandarin is offered to all MMA scholars as an elective choice.
Global Learning
Martin Millennium Academy partners with Participate International Education, an organization that supports schools in implementing true global education. At all grade levels, our school has an international focus, helping scholars to develop diverse perspectives and achieve in an interconnected world.
Each elementary grade focuses on a particular region or continent. Instruction is enriched by that region's culture, literature and current events. Middle School scholars study specialized global topics throughout their daily instruction. Schools in North Carolina that have implemented the global framework have seen tremendous increases in student achievement, student investment in the school culture, and community engagement.
Resources: